5 safety tips for baggage claim at the airport
A five-month-old baby dies on the baggage carousel at the airport because its parents briefly parked it there. This terrible accident would have been avoidable. 5 safety tips for the often underestimated dangerous situation on arrival.
by KidsAway editorial team

Finally arrived and relax: After a long flight and sometimes several hours of immigration formalities, everyone is happy when they can finally receive their luggage and leave the airport. You are probably tired and just want to go to the hotel or the holiday apartment. But be careful - those who are exhausted and impatient can easily become distracted and make mistakes. Nobody wants to put themselves in unnecessary danger so close to the finish line.
With the following 5 safety tips, you can safely and healthily master baggage claim with your child at the airport:
1. Keep children close to you at all times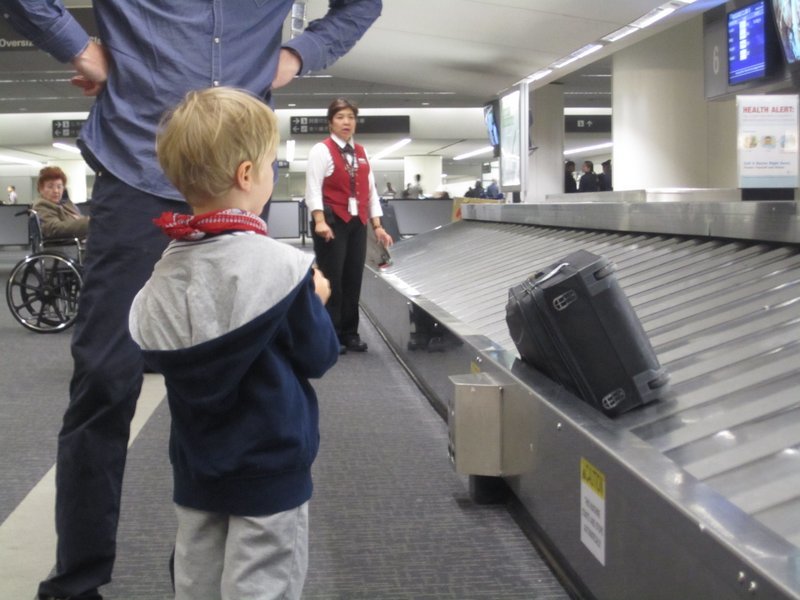 Danger zone: Children are better off keeping their distance.
© KidsAway.de
In the baggage claim hall it is often very confusing and full. As a rule of thumb, your child must not leave your side here - you can explain this to older children and give way to younger children
you
not from the side. It's best to take your child by the hand. You can put babies and toddlers in the buggy, provided that you have already received it back at the aircraft door. Don't forget to buckle up your baby or they could climb out of the stroller unexpectedly!
If you travel alone and need both hands for the baggage maneuver, you can tie your child to you for this special dangerous situation - that's great with cute children's backpacks with a leash
, but a long, thin scarf will do too. The best way to carry your baby is in a baby carrier on your back (e.g. from MiniMeis).
There is another reason why you should carry your baby close to your body in a baby carrier: In some baggage drop-off halls, sniffer dogs are used between the baggage carousels. Depending on the country, they look for unwanted plant material or drugs. Even toddlers who are afraid of dogs feel more comfortable in the arm with their four-legged friends running around.
2. Keep children out of the danger zone
Also protects your toddler from other tired passengers. Your fellow travelers now also want to quickly collect their suitcases and leave the airport quickly. When collecting suitcases at the baggage carousel, adults often do not look down and easily overlook everything that is happening below a meter - including small children. Babies in this situation are best left out of the danger zone with an adult. If you are traveling alone, you can also carry a baby carrier on your back.
Children are not allowed to let off steam when dropping off baggage
© Flickr / Hyougushi
Even if your child urgently needs some exercise after the long flight, they shouldn't run, romp or surf suitcases right next to the baggage carousel. If your child's urge to move is very great and the suitcase has to wait a long time, a parent can look for an unused area between two stationary suitcase belts where your child can move a little under your supervision. At some airports there are even game pillars for toddlers at the baggage claim area. Just have a look!
But be careful: every luggage belt can suddenly start and turn into a life-threatening danger for your child!
Reader's question: How have you mastered baggage claim on your flights so far? What is the stress for you guys? Do you have any tips for us? Just leave your experiences in the comments!
3. Do not sit on the baggage carousel and do not leave anything there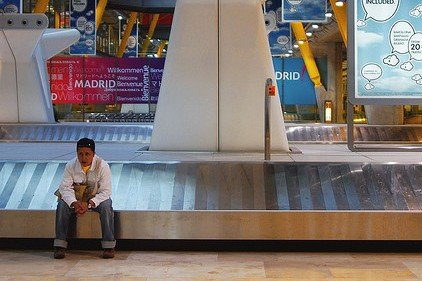 Dormant danger: never sit on a stationary baggage carousel!
© Flickr / shilshvili
Incidentally, this does not only apply to children, but also to adults. Because children imitate the behavior of their parents. Explains to older children how dangerous a baggage carousel that is starting can be. If your child is exhausted, they prefer to sit on a bag or bench in the immediate vicinity.
Really nothing, absolutely nothing at all may be left on a disabled baggage carousel, and in no case the baby seat with or without a child! If a luggage belt suddenly starts, the risk of injury is immense and can even be fatal, as happened again recently.
If you are near a baggage carousel that is switched off, pay attention and pay attention to optical and acoustic signals. Usually there is a clearly visible lamp that starts to flash when the tape is started.
4. Divide tasks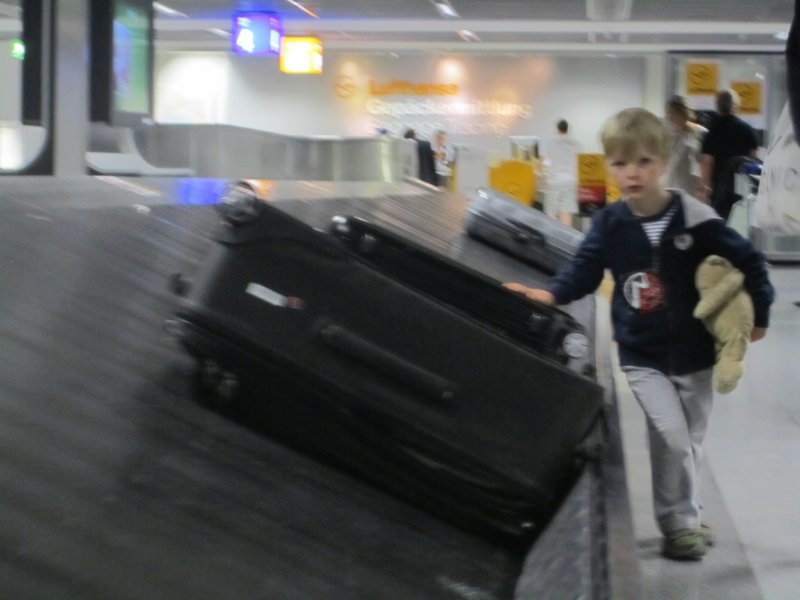 Children are only allowed to lend a hand under supervision
© KidsAway.de
If you are traveling with several adults, one adult can look after the children out of the danger zone. Another takes care of the luggage.
Baggage trolleys are usually available for use at the baggage carousels. You can usually use the luggage trolleys for free, but more and more often there is a fee to use them or you have to leave a deposit (usually conveniently by credit card). But this investment is worth it: Find a luggage trolley, even if you have trolleys. The parent who takes care of the luggage can stack all suitcases and bags on the luggage cart.
Only older children are allowed to help with the collection of suitcases under your careful observation. Make sure that your child can lift the piece of luggage off the belt by himself. Stand in the immediate vicinity and come to your child's help in an emergency.
5. Choose the optimal baggage drop-off location
Most of the passengers stand right where the suitcases are handed over to the moving baggage carousel. The further away from this point you position yourself, the fewer fellow campaigners are waiting there and the clearer the situation is. Don't worry, your suitcases will definitely come by here as well. It only takes about a minute longer.

Is the buggy missing?
At some airports you have to pick up your buggy, child car seat or stroller from the special baggage claim counter. Sometimes, however, these items are only parked a little apart to be picked up. Just ask an airport employee where you can find your buggy.
Reader's question: How have you mastered baggage claim on your flights so far? What is the stress for you guys? Do you have any tips for us? Just leave your experiences in the comments!
Is this article worth reading?