Royal Marines
The Royal Marines or Marine infantry are soldiers who serve as combat troops on ships of the British Royal Navy. You will also be entrusted with guarding buildings, ships and port facilities.
On the ships of the Royal Navy, Royal Marines are used as gun crews, but they are also used both for fighting on board on enemy ships and for defending their own ship. They also serve as land combat troops that enter enemy territory and fight the enemy's troops there. They also have the task of maintaining discipline and order on board and of supporting the officers in the event of a mutiny.
Their uniforms are identical to those of the Royal Army's line troops, consisting of red skirts with white lapels, white vests and trousers. The harness is also white, gaiters and tricorns are black. The trimmings of the tricorn are white on NCOs and men. The ranks are identical to those of the Royal Army, Royal Guard and the EITC Marines.
Well-known Royal Marines
many more
Well-known uniforms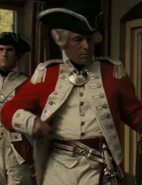 Marine Infantry Officer's Uniform (Pirates of the Caribbean 2)
Marine Infantry Officer's Uniform (Pirates of the Caribbean 2)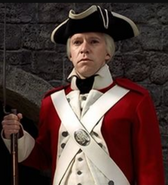 Marine Infantry Soldier's Uniform (Pirates of the Caribbean, Pirates of the Caribbean 2 & Salazar's Revenge)
Add a picture to this gallery