What is the future of offices
The office of the future
5 essential things for future office space
The office space will differ from today's in many ways. Filing cabinets, desks and standard tables with office chairs are pushed aside by working in the cloud anyway. A development that we are already seeing many times in modern offices. In addition, office furniture no longer consists of just the most essential elements. We are increasingly working on flexibility, independence and convenience through digitization. In this blog you will find 5 things with which you can future-proof your own company or an office for rent.
1. An office space without coffee is not perfect
For most people, a good start to the day starts with a cup of coffee. Especially in the office. An employee without a cup of coffee in hand is almost as rare as a table without a chair. Whether cappuccino, latte macchiato or the typical Americano - coffee in the office makes employees happy. For this reason, a coffee machine should not be missing in your office today or in the future.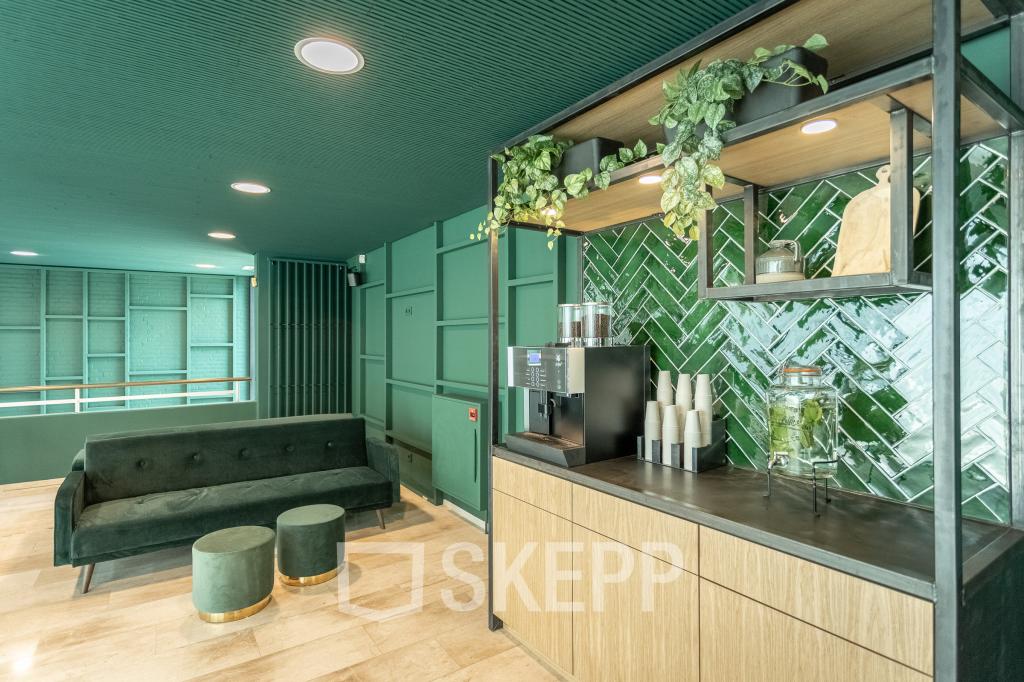 Good coffee should not be missing in the office of the future!
Many modern coffee machines don't just give you a delicious cup of coffee. In addition, they are often real eye-catchers. Add tech accessories to your office design and take it to the next level! Your employees and customers will be impressed!
2. Coffee machine as an eye-catcher, thanks to the correct placement
It is a shame to put a coffee machine pointlessly in a corner or in the kitchen. A real coffee cupboard in the social heart, for example, is much more authentic and elegant. The drawers of such a cupboard offer plenty of storage space for coffee, milk, sugar or dishes. To round off the whole thing in style, plants are suitable, with which you can create a botanical office design.
3. Sustainability and efficiency
All over the world, issues such as sustainability, recycling and the environment in general are becoming increasingly important. Many social movements like Fridays for Future try to draw people's attention to our environment for more climate protection. Recycling will also play an important role in the office world of the future. However, it is not easy to convince everyone of this. Therefore, you should take the first step, others will follow you.
The young environmental activist Greta Thunberg once said: "I have learned that you are never too small to make a difference."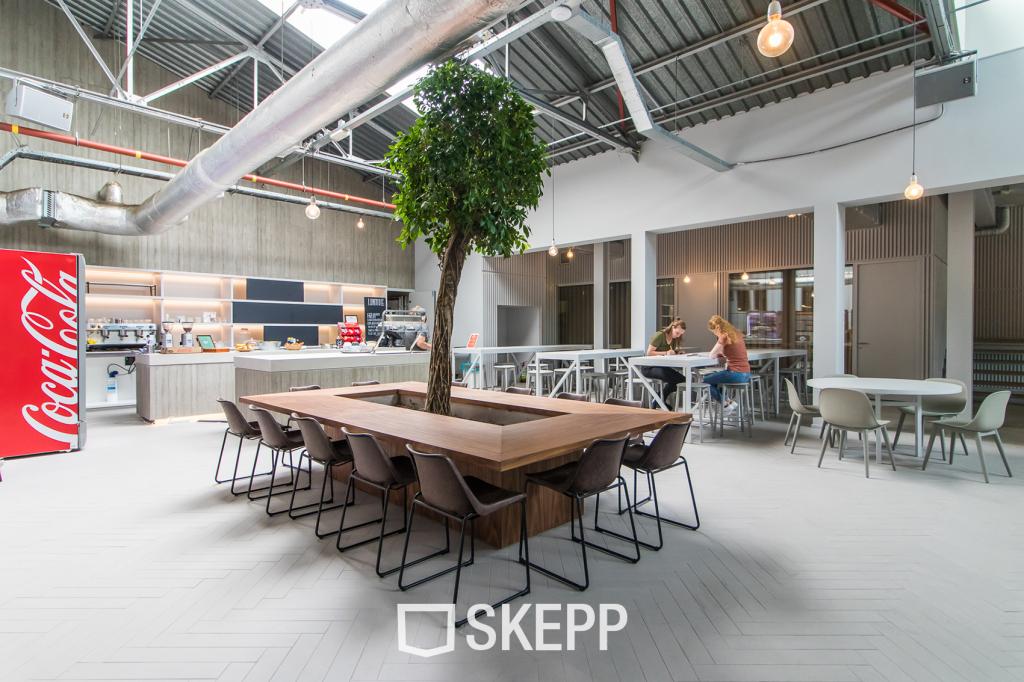 Sustainability, recycling and efficiency will become more and more important in the office of the future.
Would you like to learn more about the benefits of sustainability in the office? Or are you still looking for good resolutions for the current or coming year, where you primarily want more sustainability and efficiency for your office? Then take a look at our blog. ⬇️

Design your office sustainably in 5 simple steps?
4. Digitization and new technologies in the office
Digital reception and payment station
A digital reception? A dream comes true with the SKEPP office kit! Only with digital reception are you really fit for the future. It is a modern and, in the long term, cheaper variant of reception that is fully digital (touchscreen, loudspeaker, microphone).
Your partners and customers never have to wait long for the right person or the return of the receptionist. Such a clever development is not only very convenient in practice, but also very efficient. In short: with a digital reception you are taking a big step towards the office and workplace of the future.
There are also new systems for payment options that will be widely used in the future. A digital payment station is not an ATM, but a terminal where you can make contactless payments. In the long term, you can save personnel costs with many different features!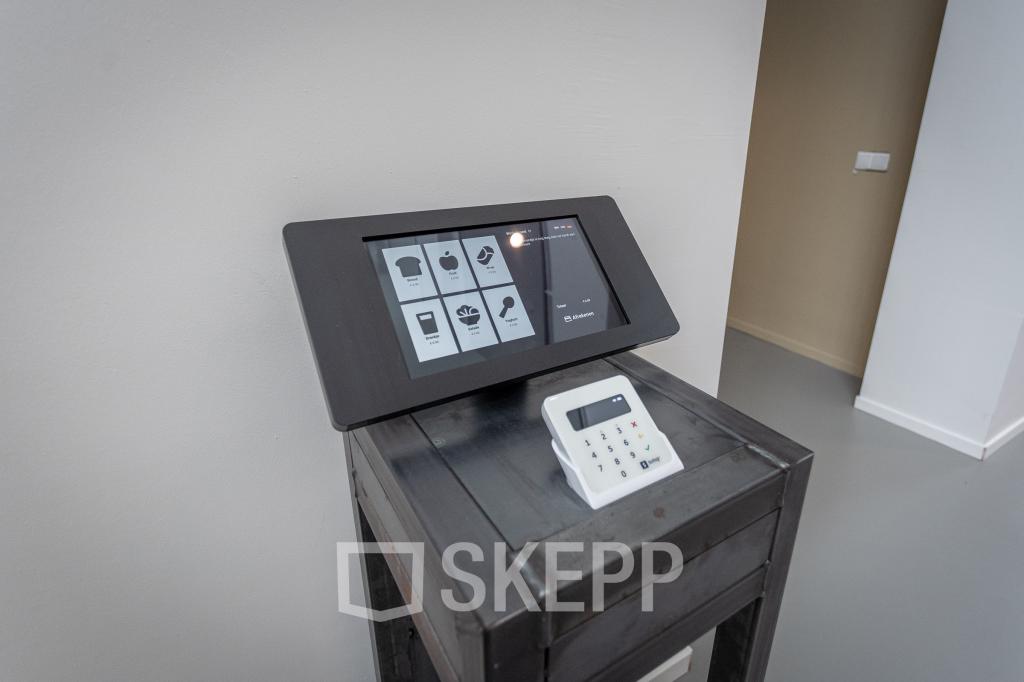 Contactless payment is coming! What are you waiting for?
With its industrial processing, the digital payment station will definitely assert itself in your future workplace. After all, we are paying more and more contactlessly, for example with Apple Pay, which is being introduced in more and more banks. So why wait Opt for a contactless payment station. It is not for nothing that they say "go with the times or you go with the times".
"Go with the times or you go with the times!"
Keep an eye on your office environment at all times
We don't mean you should spy on your employees. Rather, you should have a comprehensive overview of all environmental factors in your office building without too much effort. Various sensors send real-time information, including about the temperature, light intensity or humidity of the office space, to an app.
The best: If some values ​​do not seem optimal to you, you can easily adjust them using the application. In this way, you can always ensure that your employees feel comfortable and can work productively, regardless of whether you are on site or not. In this way, your company will be future-proof and flexible!
"Incidence of light, temperature and humidity influence the productivity and well-being of your employees."
Smart Lock - keyless entry
A particularly popular feature, the use of which has already proven itself today and will be found more and more often in the future, is keyless entry. The proper locking of an office building or room is immensely important. Not only because of all kinds of valuables, but especially because of sensitive data. For decades, we open and lock everything in the same way: with one key.
Have you ever thought that you could do it differently? With a "Smart Lock" that is connected to your employees' cell phone via Bluetooth, you decide for yourself who has access to your office space and who does not. Nowadays everyone has a cell phone with them. No more hassle with lost keys or jammed locks!
5. Work of the future - new forms of work
Flex jobs / flex time change the traditional working day
Digitization is also playing an increasingly important role in the office world. Working in the cloud is a special phenomenon. Goodbye paper! Working in the cloud enables paperless work, which in turn means that you can work anytime and anywhere. More about this in our blog: Paperless office? These tips will turn your office into a digital workspace!
Flexible working hours, also known as flextime, are agreements between employers and employees regarding the period of time in which you should work in the office. These include well-known forms of work such as flexitime, part-time or annual working hours. With flexible working hours, your employees can better combine their private life with work or, for example, avoid rush hour traffic.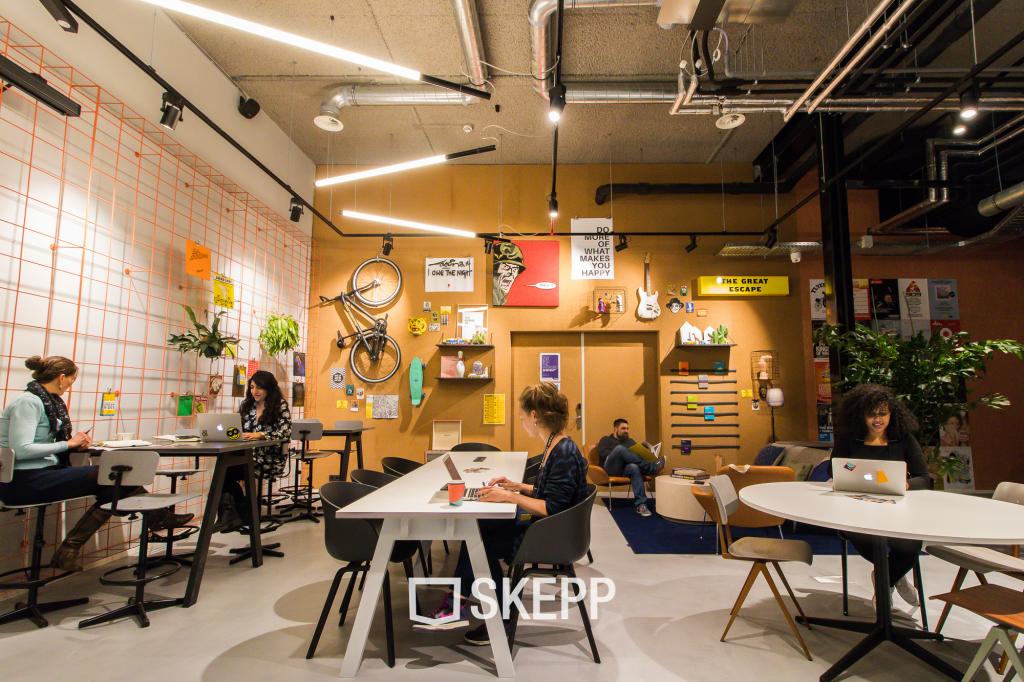 In the office of the future you cannot avoid flexible work!
Flexible workplaces go hand in hand with flextime. More and more companies, especially startups, are choosing this type of workplace. In many business centers or office buildings you can rent these and use all services. The high synergy effect in a coworking area is particularly lucrative. You will meet many other companies from different industries, with whom partnerships and successful projects can come about. In the future, flextime and flexible workplaces will become increasingly important.
"Home office - there are already many companies that offer home work"
Conclusion
With digitization and intelligent technology in the office of the future, there is no way around flexible working. Working from home and from the cloud is booming, not just because of flexible workplaces. In a short time, you will no longer have to travel arduously. You meet up with colleagues in Bali, Mexico or Cape Town - online. Use this flexibility and expand the limits of your office space! Isn't that one of the "wishes of the future" for every company?
In the office of the future, flexible working cannot be avoided
Digitization makes flexible work much easier and more attractive. In addition, you got to know many new innovations that make your working day and that of your employees much easier in order to be as committed and productive as possible.
Do you have any questions or are you looking for the right office to rent where you can move with the times? Then get in touch with our real estate experts at SKEPP! They answer all of your questions. Are you ready for the future with your company?

Get in contact!