How long will khans rule Bollywood
Indian film days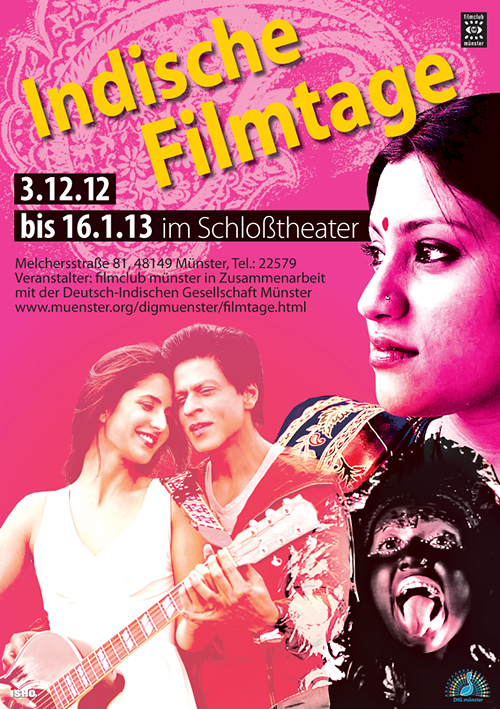 Bollywood, that is love smacking with dancing and singing, which lasts three hours, has nothing to do with reality and at the end there is the sugar-sweet happy ending, without exception. That is the general prejudice. And yet a great author like Kiran Nagarkar says that you cannot understand India without knowing Bollywood. Not that Bollywood is all that India can produce in terms of films. The Indian Film Days, which start on December 3rd in the Schloßtheater, aim to examine the current Indian productions in their full range and the range is enormous!

The Indian Film Days, organized by the Münster Film Club in cooperation with the German-Indian Society Münster, open up a glimpse into a rich film universe that is actually completely alien to us. After each film, experts for India and Indian cinema are available to answer questions. Forget what you used to believe about "Bollywood", here you have the unique chance to get to know the country, its inhabitants and its films from a completely different perspective.

Radio Q contribution to the film magazine end credits: MP3 download

Location: Münster Castle Theater
Melchersstrasse 81, 48149 Münster
Ticket reservations: 0251-22579 or on-line
The Indian Film Days on Facebook
JAB TAK HAI JAAN
3.12. at 8:30 p.m. + 5.12. at 5:30 p.m.
India, 2012, 175 min .; FSK: 6; Language: Hindi with German subtitles; Genre: Romance; with: Shah Rukh Khan, Katrina Kaif, Anushka Sharma; Directed by Yash Chopra
Shah Rukh Khan can be seen again after many years in a great love epic on the screen. The dream team Shah Rukh Khan, veteran director Yash Chopra and Oscar-winning composer A.R. Rahman (SLUMDOG MILLIONAIRE) promises a Bollywood experience in a class of its own. AS LONG AS I LIVE - JAB TAK HAI JAAN is currently India's largest state secret. Production has been puzzled around the world for months. Only the top-class cast and the double love plot give an idea of ​​what kind of romantic wave is rolling towards friends of Indian films.

DELHI-6
10.12. at 8:30 p.m.
India, 2009, 141 min .; FSK: 6; Language: German; Genre: Drama / Satire; with: Abhishek Bachchan, Sonam Kapoor, Waheeda Rehman, Om Puri, Rishi Kapoor; Director: Rakeysh Omprakash Mehra
In Delhi's old town, Post District 6, there is still braking for holy cows and the people have big hearts, so it seems to the returning US Indian Roshan (Abhishek Bachchan) at first glance. But the idyll is deceptive, because it is the year 2001. This summer, a mysterious giant monkey haunted the megacity of Delhi and terrified the residents. Who is to blame for the appearance of the monster? The others, that much is clear and soon a religious dividing line runs through the city and former friends and neighbors become mortal enemies.
OMKARA
12.12. at 5:30 p.m.
India, 2006, 152 min .; FSK: 16; Language: Hindi with German subtitles; Genre: Drama; with: Ajay Devgan, Saif Ali Khan, Kareena Kapoor, Vivek Oberoi, Konkona Sen Sharma; Director: Vishal Bhardwaj
The world of gang boss Omkara (Ajay Devgn) is in a state of upheaval. His boss Bhaisaab (Naseeruddin Shah) is striving for political office, which is why the mafia clan has to be more respectable. When a new leader is therefore sought, Omkara selects the good college student Kesu (Vivek Oberoi) for this post. His right hand - and his brother-in-law - Langda (Saif Ali Khan) would understand this decision, Omkara believes. But he's wrong. Eaten by jealousy and hatred, Langda soon spins a cleverly staged intrigue that makes Omkara doubt the loyalty of his beloved. At that time she turned her back on her father out of love and can you trust a woman who is coldly betraying your own father? The Indian version of Shakespeare's Othello puts the drama in the lawless, barren western landscape of Uttar Pradesh.

3 IDIOTS
17.12. at 8:30 p.m.
India, 2009, 165 min .; FSK: 12; Language: German; Genre: Comedy; with: Aamir Khan, Madhavan, Sharman Joshi, Kareena Kapoor, Boman Irani, Omi Vaidya; Director: Rajkumar Hirani
Dull memorization rules at India's elite university and the pressure on the students is so great that some of them collapse. The rebellious Rancho (Aamir Khan) finds an end to the pressure in the heads and immediately takes on the school principal Virus. Even his beautiful daughter Pia (Kareena Kapoor) cannot dissuade him and his two friends, the other two idiots, from making university a nicer place. The most successful Indian film of all time combines the Bollywood formula with a message that works everywhere: go your own way!

RAAVANAN
19.12. at 5:30 p.m.
India, 2010, 134 min .; FSK: 12; Language: Tamil with German subtitles; Genre: Drama; with: Vikram, Aishwarya Rai-Bachchan, Prithviraj; Director: Mani Ratnam
Veera (Vikram) kidnaps the wife of the police inspector, with whom he still has an account. A wild hunt through the humid Indian jungle begins. Who is good and who is bad is soon no longer so clear, not even the hostage. Stockholm Syndrome in the Tropics?

ROCK STAR
2.1. at 5:30 p.m.
India, 2011, 159 min .; Language: Hindi with English subtitles; Genre: love drama; with: Ranbir Kapoor, Nargis Fakhri; Director: Imtiaz Ali
Only those who know real pain can make great art, advises the unsuccessful young musician Janardan (Ranbir Kapoor). His stated mission is then to court the most popular girl in the school. She's already engaged to someone else and completely unreachable, isn't she? But no, the plan works and a mortally unhappy Janardan rises to become a rock star with the masses at his feet. Only one is missing, or is it?

DABANGG 2
7.1. at 8:30 p.m.
India, 2010, 150 min .; FSK: 18; Language: Hindi with English subtitles; Genre: Masala; with: Salman Khan, Sonakshi Sinha, Prakash Raj; Directed by Arbaaz Khan
Chulbul Pandey (Bollywood superstar Salman Khan) is a "badass Robin Hood", which in plain language means that the policeman beats up the villains with his own sense of justice and then likes to divert some of the booty for himself. Now he is being transferred to Lucknow, where he soon takes on the local gang boss, an influential politician. "Dabangg" ("Fearless") belongs to the masala genre typical of Indian cinema. "Masala" means something like "mixture" and accordingly a masala film should appeal to all tastes by offering action, drama, romance and also comedy. "Dabangg 2" is tailored entirely to the star of the film and the personality cult surrounding him, peppered with references to earlier films. The hero is drawn larger than life, knocks cool slogans and in fights the opponents fly several meters through the air. In this country, it can best be compared with the films by Bud Spencer and Terence Hill.
BOLLYWOOD - The greatest love story of all time
9.1. at 5 p.m.
India, 2011, 75 min .; FSK: 12; Language: English & Hindi with German subtitles; Genre: Documentation; with: Aishwarya Rai-Bachchan, Shah Rukh Khan, Madhuri Dixit, Amitabh Bachchan, Shammi Kapoor, Saroj Khan, Dev Anand, Javed Akhtar; Directed by Rakeysh Omprakash Mehra & Jeff Zimbalist
This documentary, actually more of a colorful collage of Bollywood songs and scraps of sound, primarily celebrates what has made Bollywood so special over the decades: large-scale dance scenes, overdrawn villains, saris (preferably rain-soaked) and long hair that gently drapes The wind blows, breathtaking sets, fateful lovers and of course a lot of music.

GANDU - WICKER
9.1. at 7 p.m.
India, 2010, 85 min .; FSK: 18; Language: Bengali with German subtitles; Genre: scandal film; with: Anubrata Basu, Joyraj Bhattacharya, Rii; Director: Q (Qaushiq Mukherjee)
The Bengali scandal film tells the story of a would-be rapper who steals his mom while she is having fun in bed. Greetings from Oedipus! Gandu's head and songs are all about sex. Although he doesn't have one, his Bruce Lee-adoring friend Riksha kindly points this out to him.

KAHAANI
14.1. at 9:00 p.m.
India, 2012, 122 min .; FSK: -; Language: Hindi, Bengali with English subtitles; Genre: Crime; with: Vidya Balan, Parambrata Chatterjee, Nawazuddin Siddiqui; Directed by Sujoy Ghosh
In search of her missing husband Arnab, heavily pregnant Vidya Bagchi comes to Kolkata for the first time in her life. But all the traces she follows are nowhere. In the guest house where Arnab is said to have lived, they say stiffly that a man of that name was never there. The same thing is repeated at Arnab's place of work. While everyone tries to convince her that she is chasing a pipe dream, Vidya comes across the name "Milan Damji", who is apparently like Arnab to the point. But the longer Vidya pokes in the dark with the help of the policeman Rana, who has a little crush on her, the more dangerous it becomes for her, because a contract killer is already on her way. "Kahaani" (in German: "History") takes the viewer to Kolkata, Bengal, at the time of the opulent Durga Puja Festival, which provides the right atmosphere for this Indian thriller, which completely dispenses with song interludes.
ZINDAGI NA MILEGI DOBARA - You only live once
16.1. at 5:30 p.m.
India, 2010, 85 mins FSK: No age limit Language: German Genre: Road Movie with: Hrithik Roshan, Farhan Akhtar, Abhay Deol, Katrina Kaif, Kalki Koechlin; Director: Zoya Akhtar
It should be a superlative bachelor party. The future groom Kabir and his two best friends Arjun and Imran want to finally embark on the dream trip to Spain they have always talked about. Each of them plans part of their stay, including an extreme sport that was initially kept secret, and no one is allowed to back down. However, Arjun cannot relax at all and is constantly doing business until his cell phone is unceremoniously pulled out of the car window while driving. Imran also has his own personal motives for the trip, because he plans to visit his biological father there - a project that he keeps secret among many foolishness. Then the group is joined by the beautiful diving instructor Laila, who is immediately swarmed by Imran, but who in turn can slowly lure Arjun out of the reserve. Of course, Laila's presence soon calls Natasha, Kabir's jealous future woman, to the scene. In the end, on this adventure holiday, there is more at stake than expected and so the three not only have the fun of their lives, but also get to know new sides of their friends.