Will Ukraine be the next Silicon Valley?
Why Silicon Valley is not in Germany
There are several reasons why the venture-funded business community in Germany is still much smaller than its counterpart in California, and why so many talented Germans are emigrating to the United States. DW learned this from interviews with Matthias Ockenfels, a Berlin-based venture capitalist (VC) who previously worked in California, and Pascal Zuta, an entrepreneur who now lives in San Francisco but previously spent ten years to found various companies in Berlin.
"We still have some way to go [in Germany] to develop a culture of full-blooded venture capital financed entrepreneurship," says Pascal Zuta. "On the other hand, the German culture of perfectionism also has advantages in some areas."
A stronger start-up culture is also wanted and promoted by the German government. The semi-public "High-Tech Gründerfonds" (HTGF) invests in startups from the software, media, internet, hardware, energy and automation, life sciences (medical technology, diagnostics, biotechnology) and chemistry sectors.
California dreamin '
According to Zuta, California's atmosphere of inspiring optimism is one reason why many young entrepreneurs as well as risk-taking engineers and programmers from Germany emigrate there. California culture accepts or even celebrates business setbacks and failures; these are seen as opportunities to "grow" and prepare for a new attempt, for the next startup.
"In Germany, people often prefer to be the know-it-all who says 'this will go wrong'. And most of the time it also goes wrong - so you're right. In Germany everyone looks for predictability, but in the end you almost never do that in entrepreneurship what you planned at the beginning. You have to remain flexible, seize opportunities. "
In addition, salaries and living expenses in California are nearly three times as high. You can save significantly more net if you work as an engineer or programmer in San Francisco or Silicon Valley than in Germany, according to Zuta. That's why there are so many German engineers and entrepreneurs in California - at least 60,000.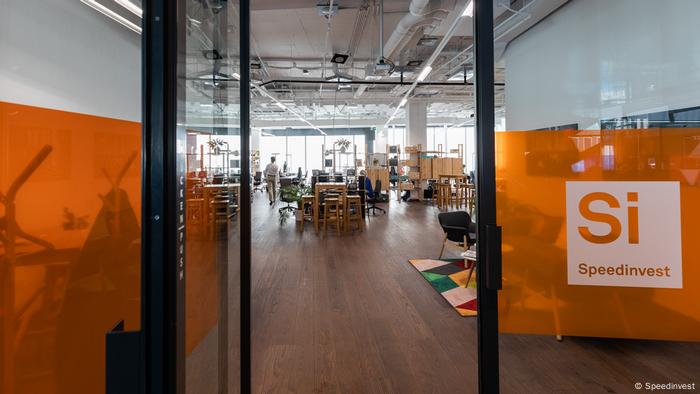 Matthias Ockenfels heads the Berlin office of the Viennese venture capital company Speedinvest.
Business angels are crucial
But the most important reason why Germany will not be competitive with Silicon Valley for a long time is California's enormous lead in building a founder-friendly "ecosystem", say Zuta and Ockenfels. Above all, California's much larger pool of experienced business angels is a key component, and that doesn't exist in Germany.
In business parlance, an "angel" is an investor who is not a professional venture capitalist, i.e. a VC, but a mentor to the founding team and a source of money for the company's early stage financing. "If there is one thing that Germany needs more than anything, it is a larger base of experienced angels who have successfully built business themselves and achieved exits," says Zuta. "Angels and founders together form the basis of the startup ecosystem."
Everything for the "Exit"
In VC jargon, "Exit" is the long-awaited event everyone is working towards: the day the company is sold and the shareholders are paid off: the angel and the VCs who funded it, as well as the founders.
A good angel works closely with the founders, giving them not only money, but also wise advice and useful contacts. A good angel can prevent a young entrepreneur from making rookie mistakes that would cause a business to fail.
Zuta, 41, is an angel herself. He has had several successful "exits" (but also a few failures) in industries ranging from film production to e-commerce, video games and a website for booking medical appointments. He is currently the co-founder and CEO of GYANT, a San Francisco-based company that uses artificial intelligence (AI) to improve asynchronous communication between patients and hospitals through telemedicine.
To get money from American VCs, move to the US
Matthias Ockenfels, 34, is a partner at Speedinvest, a Vienna-based venture capital fund with offices in several European cities as well as in San Francisco. Ockenfels heads the Berlin office. Speedinvest mainly invests in Europe, but often helps European companies to establish themselves in the US market - which makes sense because the North American market is huge and uniform, while the European markets are still fragmented by a multitude of different cultures and languages are: "Many customers and follow-up investors are based in the USA. It is easier to find American customers and investors if the founders move their main office there - and relocate to California themselves."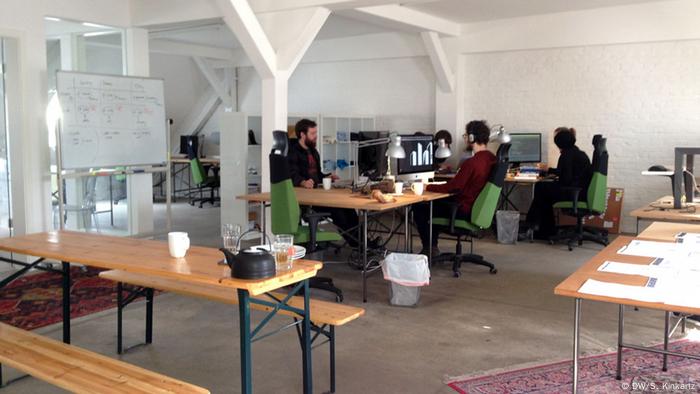 One example of the Berlin startup scene is the young company Jobspotting.
Borrow money from friends
However, Europe has a great deal of engineering and programming talent, and it is often cheaper to hire highly skilled people in Europe than in California, which is why companies founded by Europeans sometimes continue to do an important part of their engineering in Europe even after the founders move into the company USA relocated.
The VC emphasizes that VCs are not the only source of funding for startups. "Many founders use other sources of funding, such as banks, family members and friends or customers," said Ockenfels. "At Speedinvest, we see over 5,000 investment opportunities per year, but all of our funds combined invest in only about 25 startups per year. If a VC rejects your case, it doesn't mean your business isn't profitable or your technology doesn't make sense, it does just that it's not a case for VCs. "
Berlin - already a very small Silicon Valley
Pascal Zuta also thinks that California offers many advantages for founders, but more generous conditions with venture capitalists than in Germany are not one of them: "In both countries, entrepreneurs can expect to have to give up 15 to 20 percent of the company's equity in every financing round . " But because there are many more VCs and experienced business angels in California than in Germany, the stubborn entrepreneur can easily access money in California.
Nevertheless, Zuta and Ockenfels say that Germany is now building a promising start-up ecosystem - in the capital. Berlin is clearly the German center for VCs and startups, according to Zuta, and that is a good thing: "We have to build an ecosystem, a critical mass of angels, VCs, and startup entrepreneurs in a city, and this city is Berlin. It now has a worldwide reputation as a cool, hip, affordable city with a vibrant startup scene. We should cherish that and build on it. "
In the shine of the Silicon Valley - and behind it

Between gold rush and drudgery

San Francisco and Silicon Valley have become the new homes for nine German startups. They work for four months in the "German Accelerator", a federal government funding program, tweak the business model, learn from coaches, and get in touch with investors. Prerequisite: Your product must be relevant for the US market. A huge opportunity and a tough time at the same time.

In the shine of the Silicon Valley - and behind it

Bicycle reinvented!

They call their idea Cyfly: a high-tech drive system that makes better use of the cyclist's leg strength and makes cycling faster. Marcus Rochlitzer, Julius Legenmajer and Frederik Wassmann from the Möve Bikes engineering office have come to Silicon Valley to work with US bike manufacturers. The hardest part: Nine hours difference to my colleagues in Germany.

In the shine of the Silicon Valley - and behind it

3D printer software

Aleksander Ciszek has already won his first US customers after just one month in Silicon Valley. The 32 year old founded 3yourmind in Berlin in 2014. On its platform, users can compare the prices for 3D prints, upload files and order in the nearest shop. 3D printing is booming in the US. Is there a breakthrough here? Aleksander wants to stay. But how does he get a visa?

In the shine of the Silicon Valley - and behind it

Ultra-fast IT

They prefer to show their product RockIT, at least people understand that: IT technology that makes computer games faster. Frank Schwarz, Dennis Maennersdoerfer and Björn Caspers come from near Düsseldorf. Now they live in Silicon Valley until January. A lot goes much faster here than in Germany. Most of the time that's good. But it also increases expectations and pressure to perform.

In the shine of the Silicon Valley - and behind it

Safe watersports - safe business

It all started when he almost drowned himself. Christopher Fuhrhop invents a tiny pouch that surfers, sailors and swimmers can wear on their bodies. A pull on the rip cord and a rescue air cushion opens. The USA is the largest water sports market in the world. What better place to conquer it than from California? To do this, the founder works up to 18 hours a day.

In the shine of the Silicon Valley - and behind it

Lost overview?

When corporate data centers grow, bosses rarely keep track of things. A gap in the market! Constantino Lattarulos Startup Replex has developed a tool that makes the infrastructure of companies visible. The founder sees 60 percent of his market in the USA. This is where he wants to go, that's his job at the Accelerator until the end of January.

In the shine of the Silicon Valley - and behind it

Cars, Customers, USA!

The family company Auto-Jesse and the large Daimler concern are behind them. Two years ago they founded their portal wirkaufen-ihrauto.de. On it, car owners can have the value of their car estimated and sell it online. The US auto market is huge. But also complicated. To understand him, Nico Wimmer and Carlo Jesse have already conducted 100 interviews with customers and experts.

In the shine of the Silicon Valley - and behind it

An audience with the donors?

It's like everywhere in Silicon Valley: ugh outside, hui inside. Sand Hill Rd. Is a nondescript street. But many venture capital firms have their offices here, for example the investors Andreessen and Horowitz. When a startup is invited here, millions beckon. But German founders rarely get the very large amounts from donors.

In the shine of the Silicon Valley - and behind it

Career jump for the antelope woman?

Theresa Schnepp, one of two women in the accelerator. Her company Antelope makes clothing for athletes that pokes muscles with electric shocks and makes training more effective. Her boss sent her to Silicon Valley to learn from US coaches how to convince investors. Hopefully the 24 year old won't get a job offer here: She had to promise to come back.

In the shine of the Silicon Valley - and behind it

The fastest market research in the world

What is the market like? What do the customers want? Jonathan Kurfess worked in a large German company. Market research there took weeks and cost thousands of euros. So he quit and built his Appinio app. It seems to be arriving in the USA. And maybe at some point there will be an offer to buy his company.

In the shine of the Silicon Valley - and behind it

The Google lost property office

Antonio Vega calls his platform Haveitback the largest online lost property office in the world - with almost four million entries. A search engine on which private users who have lost something can come together with companies and authorities. Report loss, upload photo, state finder's fee. Market potential? Looks like this: In the United States, about 800 million people find or lose something every year.

Author: Grit Hofmann