How can we prevent diseases
Tips to reduce the risk of disease
Work on yourself so that in a while you will be able to answer "no" to many of the questions listed above. The most important steps towards health are as follows:
Detoxify your body (physically and mentally). You can find more information on the subject of detoxification, e.g. here: Detoxification cure
Reduce stress and structure your life for more balance and satisfaction. You can find more information about coping with stress here: Counteracting stress
Boost your immune system by keeping your gut healthy, eating healthy, and consuming the right nutrients. You can find more information on strengthening the immune system, e.g. here: Strengthening the immune system. And more information about bowel health below after the text: Colon cleansing - The free guide
Make sure you get enough exercise and sunlight for vitamin D production. The importance of sunlight for our health is explained in this text: Preventing vitamin D deficiency
Whether you take preventive action or want to alleviate existing illnesses, one thing is always the right thing to do: Trust the natural self-healing powers of your body and support it as best you can by cooking your own food again.
We recommend our cookbooks:
donation
Your donation helps us
If you enjoyed this article, we would appreciate a small contribution to our work! Donate now with Paypal.
display
Distance training to become a holistic nutritionist
Are you interested in what's in our food and want to know how nutrients and vital substances affect the body? Do you want a healthy life for yourself, your family and fellow human beings? Nutritionists are popular - but the holistic aspect that is needed for sustainable health is often forgotten when giving advice. At the Academy of Naturopathy, you will get to know the connections between lifestyle and diet as well as physical and psychological well-being.
That educates interested people like you in around 16 months to become a holistic nutritionist out.
Is this article worth reading?
Share this article
Notice on health issues
This information is passed to the best of my knowledge and belief. They are intended exclusively for those interested and for further training and are in no way to be understood as diagnostic or therapeutic instructions. We do not assume any liability for damages of any kind, which arise directly or indirectly from the use of the information. If you suspect illness, please consult your doctor or alternative practitioner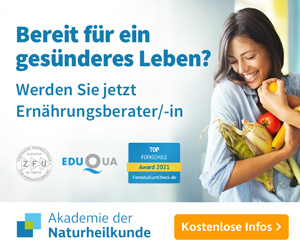 Subscribe to Newsletter
Exciting information about health and nutrition
1x per month
Login Successful. You will shortly receive a confirmation at the specified email address.
With your registration you allow the regular sending of the newsletter and accept the data protection regulations.
HEALTH CENTER © 2021 Neosmart Consulting AG. All rights reserved.