Should I invest in Bitconnect?
BitConnect and BitConnect Coin (BCC) put to the test: Scam or not?
What is BitConnect?
BitConnect is a platform on which your own Bitcoins can be lent. These are managed by the BitConnect Bitcoin Trading Bot and the profits generated by the bot are distributed daily. It is a pity that it is not really clear how the bot is acting. Really much about the bot is not revealed on BitConnect, only how high the payouts have been in the last few days: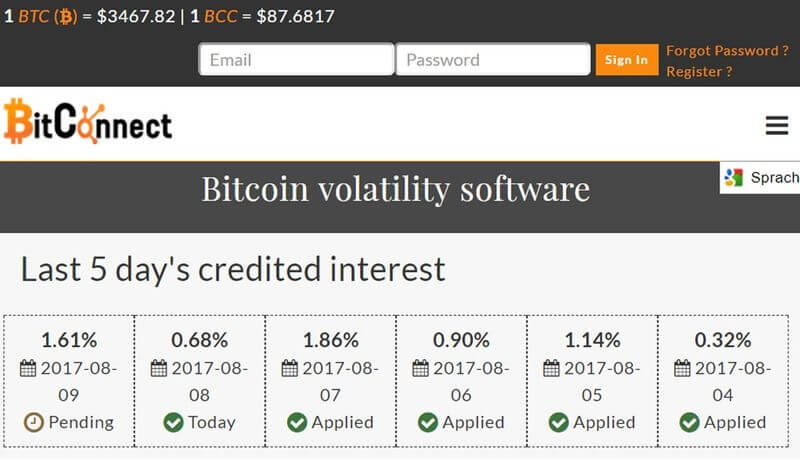 With distributions of at least 0.32% up to 1.86% in the last five days, the return is extremely high. Currently you get this interest (with a lot of luck) with a normal bank per year, with BitConnect per day! If you look at the interest rates over the past six months, there were even days with payouts of over 4% per day.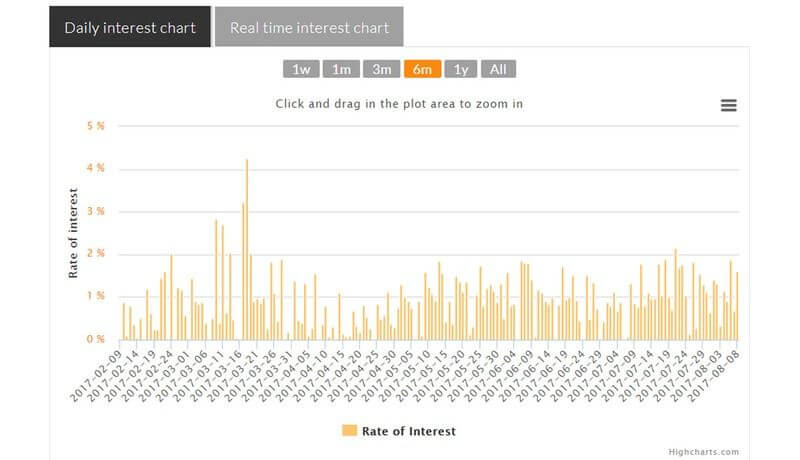 At these rates, greed can be quite high, but this is where common sense needs to instill suspicion. Because most systems that lure with these rates are pyramid schemes that generate no real added value or only for the operator of the pyramid scheme!
Nevertheless, we would like to dedicate ourselves to BitConnect, test it and share our experiences: BitConnect started with an ICO in November 2016 and thus brought the BitConnect-Coin (BCC) onto the market. Two months later, the associated BCC desktop and web wallet, as well as a BCC exchange (change from Bitcoin to BitConnect Coin) were introduced. In addition, the changed coins could also be invested in the Bitcoin trading bot on the platform in January 2017 and thus benefited from the daily payouts.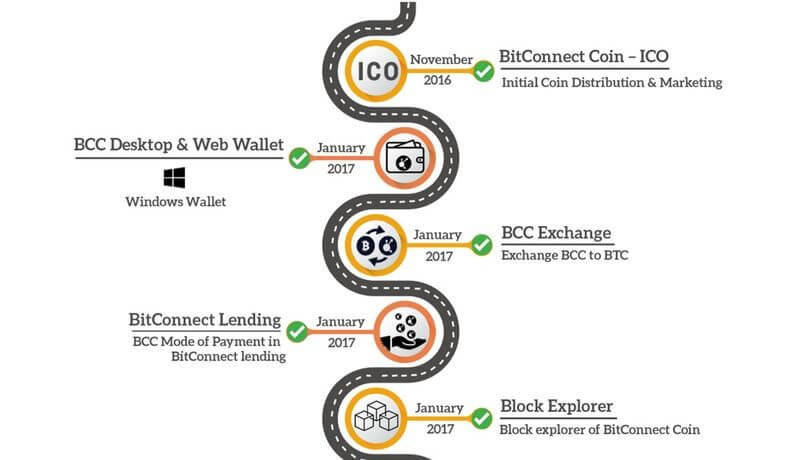 What is the BitConnect-Coin (BCC)?
The BitConnect-Coin (BCC) is still a new coin and has been on the crypto market since the end of 2016. However, the coin is very popular and has been listed among the top 20 cryptocoins on Coinmarketcap for months. With a market capitalization of currently over half a billion (!) Dollars, the coin occupies 14th place. Since May, BCC has apparently exploded and has increased its value tenfold. The coin was still available in January for 0.13 dollars, a BCC now costs just under 90 dollars.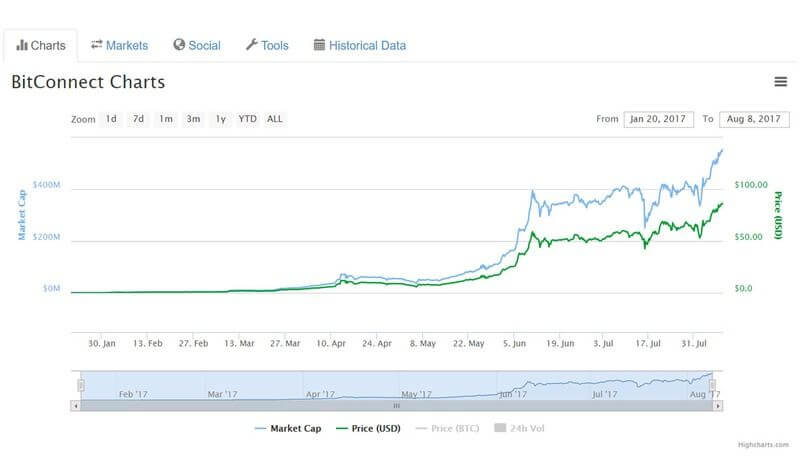 But why is the coin so successful? Not only the BitConnect platform offers the Bitcoin trading bot an opportunity to earn quick money. Because in addition to classic mining, the coin also relies on the proof-of-stake algorithm (PoS), which can be used to earn BCC via staking. This means that no mining hardware is operated, but only the BCC coin has to be kept on your own Bitconnect QT wallet. BitConnect promises an unearthly return of 120% per year!
BitConnect test & experience report
Despite all skepticism, we would like to test BitConnect and share our experience: Registration is easy and takes less than a minute. The platform is a little confusing, but after a few minutes it becomes clear what the next steps are: Transfer bitcoins to the platform.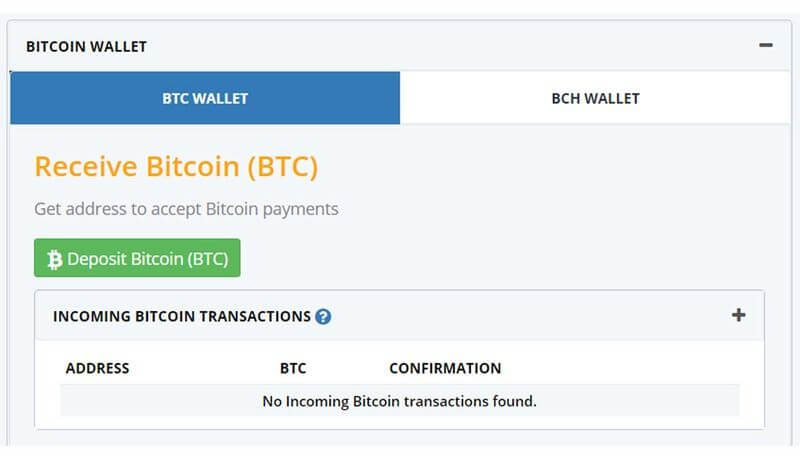 We transfer around US $ 200 in Bitcoins, which can then be exchanged for BitConnect Coins on the integrated "BCC Exchange".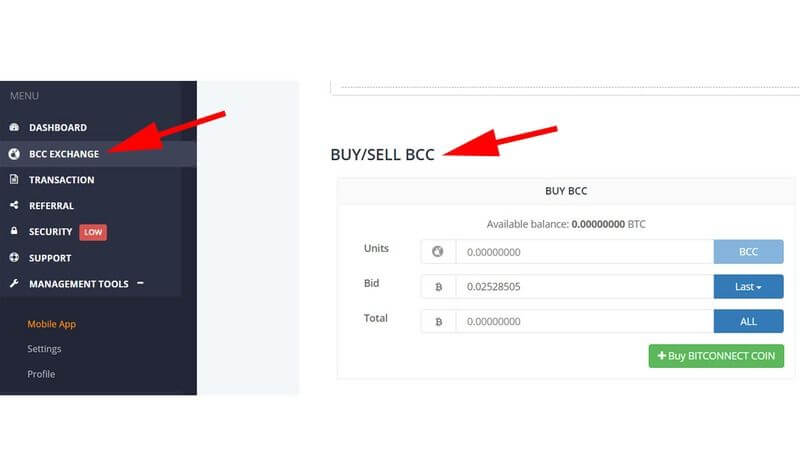 After the Bitcoins have been exchanged for BitConnect Coins, they can be lent on the "Dashboard": "Lend BitConnect".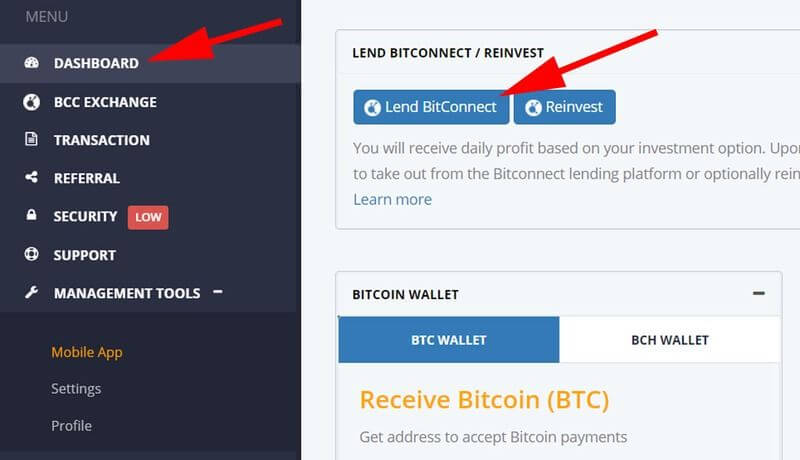 The BCC coins that are invested must add up to a sum divisible by 10, starting with the smallest investment of 100 US dollars. Then you can always increase in steps of 10 US dollars. For the brave investor, higher levels (from US $ 1,010) offer incentives to invest more through better interest rates and shorter investment periods.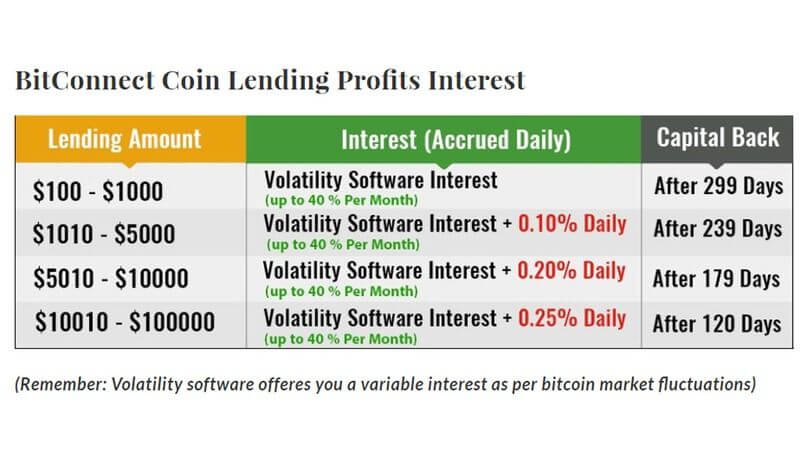 It is also important to note that the money invested is firmly invested for up to 299 days and cannot be withdrawn! Only the distributions are credited to the account on a daily basis. The money invested is only paid back after the 299 days (in the first stage).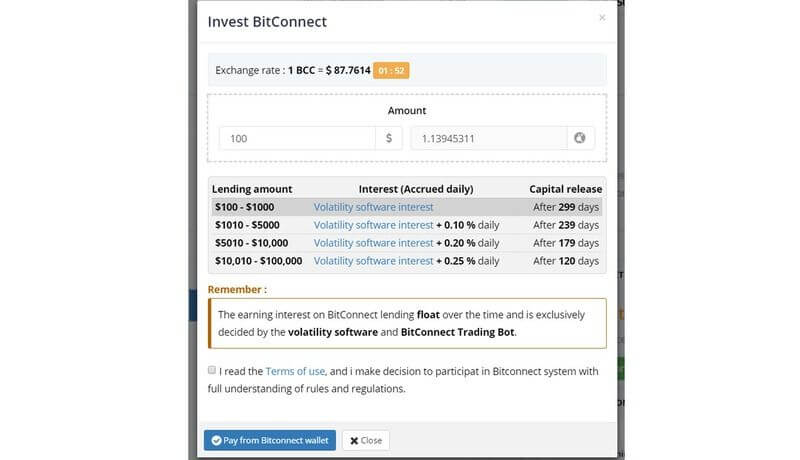 For test purposes, we decided to invest twice 100 US dollars - with a one-day offset. These can be viewed under "Transaction"> "Lending Wallet". In addition, the interest of the first day has already been credited: $ 1.86.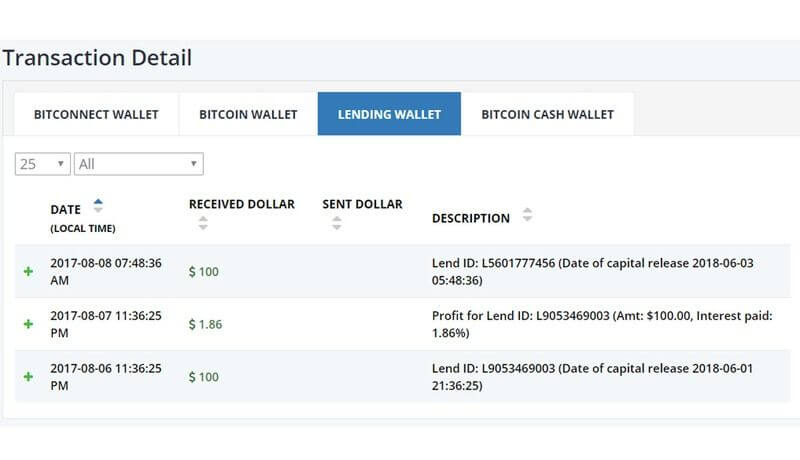 After 5 days: $ 7
After the first few days, interest will flow into the account on a daily basis. Almost US $ 7 has already been paid in interest, which means an interest rate of just under 3.4% after just five days.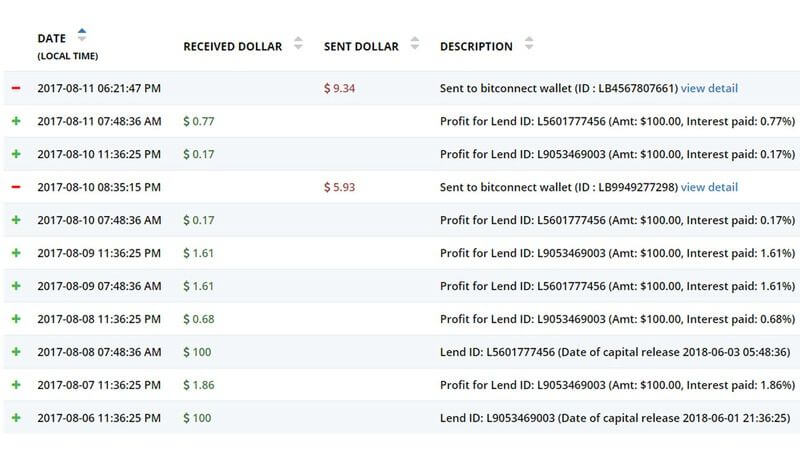 We have reinvested the interest paid in US dollars in new BitConnect coins. However, these cannot be reinvested directly as the minimum deposit for lending coins is at least $ 100.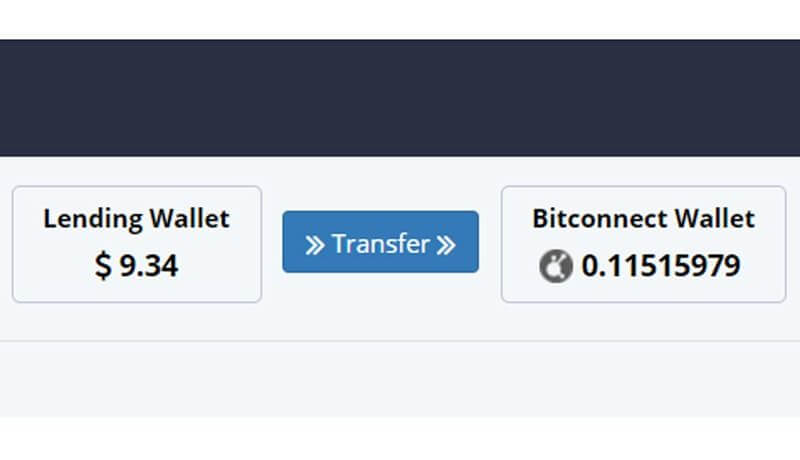 After 30 days: Invest again for $ 100
After 30 days of regular payouts, including a few days with no payouts (0% intrest), another $ 100 could be used based on the interest paid. The distribution was not yet 100 US dollars, but due to favorable exchange rates and an increase in BitConnect Coins (currently 1 BCC = 136 $), another 100 $ could be invested. Last month Bitconnect was not available for one day, the price collapsed sharply here - many people are probably assuming a pyramid scheme and, when the Bitconnect site was not available, Bitconnect Coin was selling. After a day the site was back online and the price of the coin hit new highs.
Access the world's most popular crypto assets, including bitcoin
Automatically copy the trades of the top crypto traders
Deposit using PayPal + 9 other deposit options
eToro is a multi-asset investment platform with more than 2000 assets including FX, stocks, crypto, ETFs, indices and commodities. In addition to Crypto / Fiat and Crypto / Crypto pairs, eToro offers a wide range of Cryptos like Bitcoin, XRP and others. eToro users can connect with other users, learn from them and have them copied or have them copied.
Credit Card, Debit Card, Bank Transfer, PayPal, Skrill, Neteller, Yandex, WebMoney, MoneyGram
Full list of regulations:
FCA, CySEC, ASIC, AMF
The purchase of cryptocurrencies is not regulated in most EU countries and is therefore not subject to any supervision by the EU regulatory authorities and has no EU protection. Your capital is endangered.
Security through strict cryptocurrency exchange
Liquidity Accepted in over 200 countries
Coinmama is a Bitcoin broker based in Israel. They specialize in selling bitcoins for credit cards to almost everyone in the world.
Credit card
Full list of regulations:
Full list of regulations:
Conclusion
We are really very skeptical whether BitConnect is a reputable provider and persists for a long time. Although the BitConnect coin is listed among the top 20 at Coinmarketcap, which can speak for a certain quality, this can also be deceiving and only reflect greed, as everyone wants to invest in BitConnect. We will continue to report on our experiences with BitConnect.