Can music really make women stronger?
Aid organization: "We strengthen women"
DW: Mr. Mogge, Welthungerhilfe is most involved in Africa. What are the specific problems of the continent?
The continent has a really extremely young population. Every year between 15 and 20 million young Africans enter the labor market. The population in Africa will double by 2050. That is why it is very important to invest in jobs that can then guarantee people a livelihood. This demographic development is not only a problem but also an opportunity for Africa. Ultimately, it comes down to making something positive out of this challenge.
Welthungerhilfe is heavily involved in the Democratic Republic of the Congo. The country has suffered from war and violence for years. What is the impact of the fighting on the civilian population?
Hunger is also exacerbated by wars and conflicts. In countries like South Sudan, the Congo and Niger, armed conflict is causing people to leave their villages and lose all of their livelihoods. At the same time, resources such as water or pasture are becoming scarce, which leads to further disputes. In addition, there is climate change, which puts people in additional crisis situations. All of this happens in countries and societies where people have little resistance to face such emergencies.
Many people in Africa suffer from social inequality. How do you approach this problem?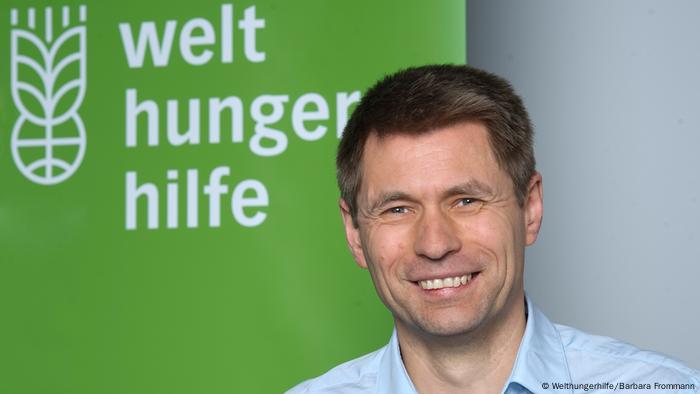 Mathias Mogge, Secretary General of Welthungerhilfe
In our projects and programs, for example, we ensure that women have equal access to the services we offer. They should be perceived as actors in the projects and play a role just like the men. I was in Zimbabwe a few days ago. It's about agricultural projects. We urge that as many women as men be represented on the committees. If you pay attention to parity and keep reminding you, something will change in the long term. Of course, this also applies to other areas within the training. We also ensure fair participation in training courses. We empower women because they play a big role.
You want to empower people to help themselves. How do you proceed?
In many regions there is enough food. But they are often very expensive. We try to help people by improving their access to healthy food. This happens, for example, that they grow fruit and vegetables themselves. That is why we bring fruit trees, for example, to areas where cultivation has so far not been promoted or has hardly been promoted. We also work to ensure that people receive healthy food. In Zimbabwe we work with farmers along very specific value chains, such as tomatoes. But it can also be coffee or cocoa, as in Sierra Leone. This is then grown especially for the international market. But it is important to give people access to local markets. For this purpose we build market halls, for example, in which people can then do business.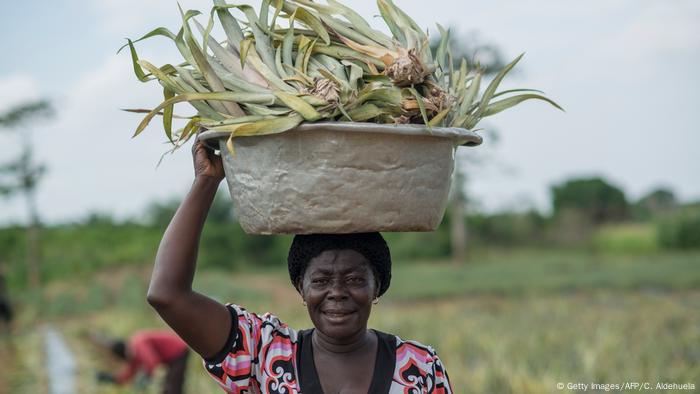 Starting her own business with agriculture - a farmer in Ghana
Does that mean you have to think in terms of longer-term periods?
Yes. For example, look at women who give birth to children. Often they are malnourished or undernourished before birth. As a result, the child is usually also poorly cared for. Then a vicious circle starts: Bad conditions lead to further bad conditions. That is why we are committed to improving the nutrition of expectant mothers. They get access to healthy nutrition so that their children can be born healthy. According to current medical research, the first thousand days after conception are the most crucial for a child's health. That is why we try to give mothers and children special support during this period.
How does an independent life succeed?
We basically try to find solutions that will give people independence, at least in the medium term, so that they can shape their lives independently. The aim is to overcome hunger as well as poverty. In Zimbabwe, for example, we have distributed small amounts of seeds that people can use to produce more seeds and bring them to market. We follow this principle elsewhere as well.
In Myanmar, in collaboration with Wageningen University in the Netherlands, we programmed an app with the aim of boosting seed production. The app provides a platform where those who have produced their seeds can sell them to those who have too little or no seeds. Another app informs users about which farmers rent out tools where they don't need them at the moment. You can then turn to them. The corresponding rental prices are also set in the app.
The agricultural engineer and environmental scientist Mathias Mogge is Secretary General of the aid organization Welthungerhilfe.
The interview was conducted by Kersten Knipp.